Ken je dat: weer die losse kabeltjes van je iPhone iPad, powerbank en je headsetje volledig in de knoop. Vaak onderin je tas, als een kluwen in elkaar en vaak ernstig lastig los te krijgen zijn. Gevolg: kabeldrama, een geïrriteerd hoofd en gefrustreerde en verwoede pogingen om alles uit elkaar te trekken. Dat is verleden tijd met de supertoffe gadget: CableWrap. Een leren hoesje waarin je alle kabeltjes mooi gerangschikt en georganiseerd kunt opbergen. Aan het uiteinde heeft de CableWrap een pocket waarin je stekkers kwijt kunt, je usb-stick of je powerbank. De wraps zijn hand made van afvalleer.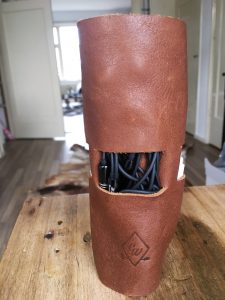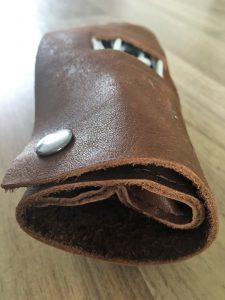 De Rotterdamse ontwerpers van de CableWrap, NT Concepts – Niels & Trisha, kopen grote en kleine lappen afvalleer op en produceren zo de wraps. Er zijn geen grote voorraden want Niels & Trisha zijn afhankelijk van het beschikbare afvalleer. Elke CableWrap is dan ook een heuse limited edition, verrassende wraps die alleemaal een eigen karakter hebben. De ene is gemaakt van stoer leer, de ander van boterzacht leer of met een suède-look. En je hebt ze in allerlei kleuren: cognacbruin, mintgroen, donkerblauw, zachtroze, zwart, wit, mosterdgeel, you name it. De CableWrap is er in twee soorten: de Big Wrap en Mini Wrap. De Big Wrap is de grote versie van CableWrap. Afmetingen: 20 cm lang uitgerold en opgerold een diameter van 6 cm. Er zitten 6 sneden in die plaats geeft aan 3 kabeltjes. In het zakje past je powerbank of stekker voor, bijvoorbeeld, je iPad.
Deze absolute must have is ideaal voor op reis, je stopt je kabeltjes erin, je stekker/ powerbank, rolt de wrap op en sluit 'm met twee drukknoopjes, hop in de tas. De MiniWrap is het kleinere zusje van de Cablewrap. Hierin is plaats voor 1 kabel of headsetje. De MiniWrap kan ook gebruikt worden om het draad van je koptelefoon in op te rollen zodat die niet continu los hangt. Ideaal voor op de fiets of als must have'je naast je BigWrap. Hebben? The CableWraps zijn verkrijgbaar bij onder andere Ginza op de Pannekoekstraat in Rotterdam of online. De BigWrap kost € 29,95.