Als er één nieuwe sport is die de afgelopen jaar enorm populair is geworden, dan is het wel suppen* (stand up paddle boarden). Waar men een jaar of 5 nog dacht dat het een hype was die over zou waaien, is het juist een blijvertje gebleken. Het suppen is door haar toegankelijkheid een zeer gewilde wateractiviteit, voor jong en oud. Ook omdat je het op zowel binnenwateren kan doen, als op zee. En niet te vergeten: het is een super rustgevende bezigheid die je het hele jaar rond kan doen.
En zo wil het dat men allang niet meer vreemd opkijkt wanneer er op bijvoorbeeld de Amsterdamse grachten een groepje suppers voorbijkomt. Wat je aantrekt op een SUP board (die overigens vaak, heel handig, opblaasbaar zijn)? Als het echt guur en koud is dan kies je voor een wetsuit. Is het warm(er) weer en ga je suppen op rustigere wateren, dan kan je ook gaan voor een losse legging met bijpassende top. Zo heeft Protest onlangs een erg toffe Sup collectie gelanceerd. Wij waren bij de lancering en werden erg blij van alle vrolijke kleuren. Het maakt het vooruitzicht op de aankomende herfstmaanden zeker een stuk zomerser.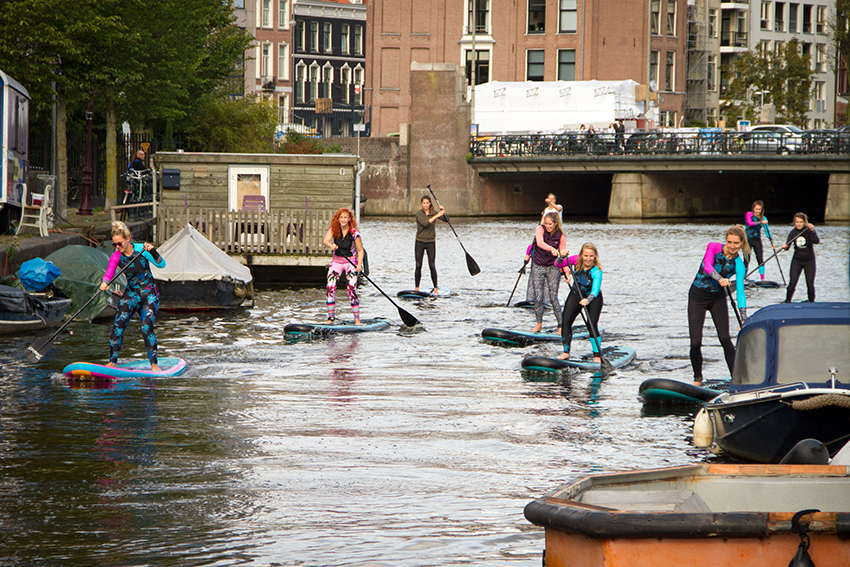 * Bij een stand-up paddle board maak je gebruik van een peddel, dit in tegenstelling tot gewoon golfsurfen, waar je liggend of knielend met je armen moet peddelen.